Marketing Brochures • Direct Mail • Advertising Copy • Web Copy • Newsletters • Articles • Press Releases • Sales Letters • Proposals • RFPs • Grants • Event Scripting • Video Scripting • Speeches • Ghostwriting • Technical Writing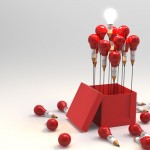 Imagine this…
It's 9:02 pm. Rubbing your eyes, you finally close the project folder as a vacuum cleaner whines to life in an office down the hall. When's the last time I left before the cleaners arrived? you wonder. But as you get up to pack your briefcase, your eye settles on the piles of stuffed folders, each representing another project. All yours, since your department's staff has been cut in half. Looks like you'll be keeping the night crew company for a while.
Or this…
You're excited, and you're not alone. The strategic meeting invigorated the whole team. This company's potential is limitless, you think. But your new direction also means new projects, new marketing material, new web content…all on top of your current job responsibilities. Now a new feeling joins the excitement: panic. How are you going to find the time to embark on this promising new phase?
Or even this…
You stare at the computer screen, unable to believe what you're seeing. The copy is muddy, unfocused – it's as if the writers are trying to hide the product rather than promote it. If only they'd get it right! But it'll take twice as long for you to redo it.
You need to boost your organization's writing power.
All of these scenarios have two things in common. One, they're each becoming routine in our do-more-with-less working world. Two, they each have the same solution. If you want to move your organization's communications forward while making time for yourself to focus on other priorities, the most efficient way is to partner with a reliable, experienced, and talented writing professional.
And you have come to the right corner of the Internet, because that's just what I offer. I have spent more than 15 years teaching people how to communicate effectively in writing, and I'll put that experience to work for you. I write engaging, audience-driven copy that gets results.
I invite you to read a little bit about my background and experience, including what my clients have to say. Then check out some clips of recent work in my portfolio. Feel free to email me with any questions, or contact me to arrange a free phone consultation to discuss how I can help energize your organization's communications.
Thanks for stopping by. I look forward to hearing from you.